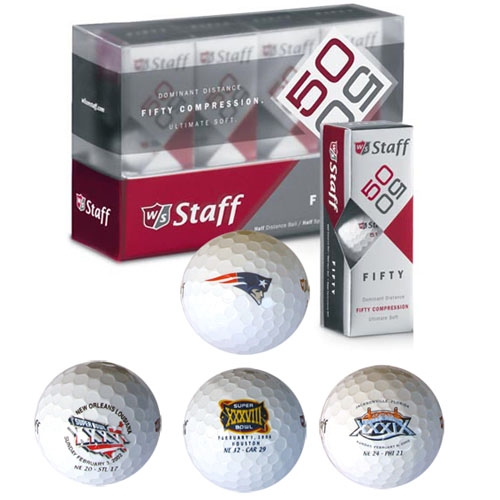 Wilson Staff Super Bowl Champs Golf Balls
The Patriots Wilson Staff Super Bowl Champs Golf Balls feature 4 sleeves of ball. This unique set of one dozen balls include one sleeve of 3 balls for each Patriots Super Bowl Championship, complete with Super Bowl Logo and final score, and one sleeve with the famous Patriots logo.
Wilson Staff Golf Balls, the Fifty edition have a super-soft core that pushes USGA limits for initial velocity. An equally soft cover that combines power with feel. The new Wilson Staff Fifty brings balance to a golfer's game by delivering synergies between rubber core chemistry and ionomer cover blend ratios to yield a soft, 50 compression golf ball with powerful acceleration.
$29.95