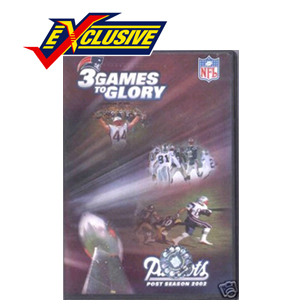 Three Games to Glory ® DVD
Patriots Exclusive! An 2001 NFL Films produced DVD capturing nearly every play of the Patriots; playoff victories over the Oakland Raiders, Pittsburgh Steelers and St. Louis Rams.
Each playoff game is condensed into an action-packed 30-minute highlight, showing nearly every play in the game. The 90-minute DVD features the radio call of Gil Santos and Gino Cappelletti, who describe all the action captured by the award-winning film crews at NFL FILMS. Three Games to Glory ® begins with the snow-bowl playoff game against the Oakland Raiders, featuring Adam Vinatieri's unforgettable 45-yard field goal that sent the game into overtime.
Available only from The New England Patriots and Patriots.com ProShops.
$29.95 Only 9 left in stock - order soon.